Press
Player Personnel: Colorado's top tech and startup hires in July
Email Facebook LinkedIn Twitter
---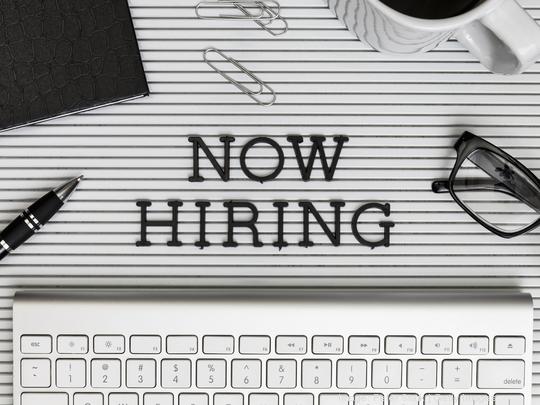 Now hiringPeter Stark | Getty ImagesBy Nick Greenhalgh - Reporter/Colorado Inno editorAugust 04, 2021, 03:06pm MDT
---
While Covid-19 has changed personnel plans for many, technology companies and startups from across the state continue to hire during the pandemic.
We track the major player personnel moves in our daily newsletter, the Beat. Below, we've listed the top Colorado technology and startup hires reported in July.
CrossFit, a fitness brand run by longtime Boulder tech executive Eric Roza, announced that it has appointed former Nike executive Jason Dunlop to the new role of president. Dunlop has also held senior roles at Starbucks and The Gap, and was brought on to help accelerate CrossFit's global growth. You may remember that Roza, the former CEO of Datalogix, took over the company in June 2020 after the former owner was embroiled in controversy over racist tweets.
After successfully guiding video giant Vimeo for three years as CEO and putting the company on the path to its 2021 public debut, Dae Mellencamp has joined the executive team at local same-day content startup Soona. Mellencamp was announced as Soona's new chief operating officer and is tasked with overseeing the areas of the business that support the virtual shoot experience from the creative crews.
Dae Mellencamp was appointed COO of Soona.Soona
Colorado tech unicorn Quantum Metric announced the appointment of Reza Zaheri as the company's new chief information security officer. Prior to joining Quantum Metric, Zaheri held a variety of security positions for DIRECTV and AT&T, and also founded security training company 1:M Cyber Security.
Denver-based Amenify, a platform for staffing within high-end residential properties, announced that Howard Behr has joined the company as chief operating officer. Prior to joining Amenify, Behr was most recently president at Lapa Lopa, a tech-enabled cleaning service company for the multifamily housing market. In April, Amenify raised a $4.8 million funding round with plans for expansion into 15 new markets.
CLMBR announced two additions to the company's advisory board – Sekou Kaalund and Dhani Jones. Each brings differing perspectives, with Kaalund having a background on Wall Street and Jones having spent eleven seasons in the NFL.
After leading in the beer space, Dale Katechis is ready to take on a new challenge in cannabis. Veritas Fine Cannabis, a Colorado craft cannabis cultivator, announced that Katechis, founder of Oskar Blues Brewery, has joined the company's leadership team.
Denver's Keyavi Data Corp., a data security company, announced that Shai Guday has joined the company as its first chief product officer, reporting to CEO Elliot Lewis. Prior to joining Keyavi, Guday spent more than 20 years at Microsoft working on cloud, cellular, mobile payment and data usage technologies.
Denver-based Pie Insurance, which provides workers' comp insurance for small businesses, announced it has appointed four new people to its leadership team. The company brought on Chris Lankford as VP of engineering, Nick Sinigaglia as chief accounting officer, Amy Stern as VP of reinsurance and capital solutions and Dale Willis as VP of new lines.
Boulder-based Outside, an active and healthy lifestyle content creator, announced that Denver chef Biju Thomas has joined the company as a senior content producer for nutrition and cooking. With the hire, Thomas will have a role in creating video, TV and visual content for Outside. You may recognize him as the founder of Denver's 'The Little Curry Shop' restaurants.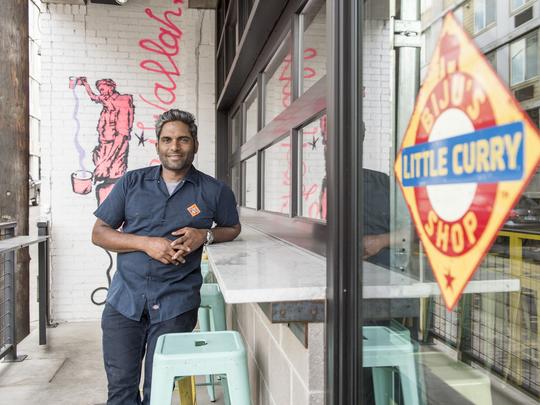 Biju Thomas, founder of Biju's Little Curry Shop.Denver Business Journal / Kathleen Lavine
Boulder-based TeamSnap, an amateur sports management and communication software company, announced the hiring of two new leadership team members. Joyce Bell has joined as the new chief financial officer and Michael Fox was hired as the VP of product and design. TeamSnap's current head of product, Greg Ludke, will be shifting to oversee corporate strategy and development.
Denver's 3Lines Venture Capital announced the appointment of Nick Nardi as a senior advisor. Nardi joins 3Lines after serving as senior executive VP at Canadian software company Harris Computers, where he focused primarily on mergers and acquisitions.
Denver-based Homebot, a startup working to empower consumers to build wealth through homeownership, announced an addition to its executive team. Former Ellie Mae vice president, Jeff Marchetti, has joined the Homebot as the VP of large account enterprise sales.