Press
3 Examples of Cannabis Packaging in 2022
Looking for inspiration? Check out these stories on QR codes for authentication, a right-sized vape pod carton update, and a colorful paper tube for cartridges and concentrates.
Keren Sookne - Jun 6th, 2022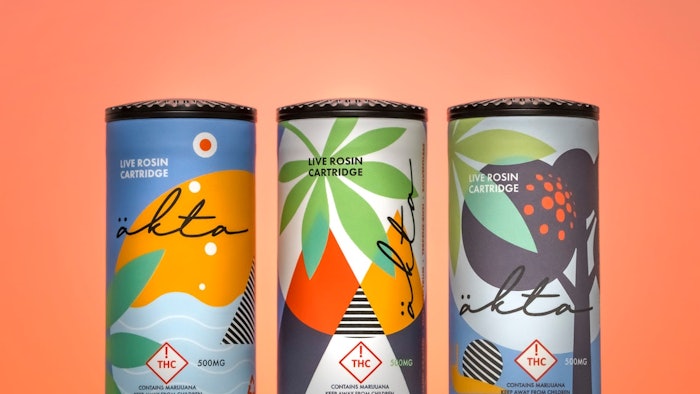 Äkta's design uses up to seven colors, which offers flexibility on which color they lean on for which variety.
Denver-based cannabis company Veritas adds QR codes to its packaging that enable consumers to find detailed information on the specific cannabis strain and where the product is available for future purchase.
Voice of the Brand Owner: "In our eyes, QR codes had been a dying thing pre-COVID because smartphone users previously had to download a third-party app to scan them instead of using the camera feature, and let's be honest, we live in a world where these additional steps can act as a deterrent.
"We capitalized on this opportunity [new technology] to give consumers quick and easy access to verified information directly from the source. Veritas Fine Cannabis packaging QR codes lead back to a strain card on our website that provides even more detailed information not included on the label such as the full terpene and cannabinoid lab test results along with where else they can find that product, if it's currently in the rotation. This has allowed our customers to become more educated on what they are smoking while allowing us to reach the customer directly by showing them where they can then find said product again." — Jordan Plunkett, Marketing Director at Veritas Fine Cannabis
Cannabis brand STIIIZY redesigns its vape pod packaging with 25% less material, resulting in sustainability and efficiency gains and reduced costs.
Voice of the Brand Owner: "Before the redesign, our packages featured both a batch and a tamper-evident function. Moving forward, our tamper-evident stickers will pull double duty. Aside from keeping the contents inside each carton safe and secure, the labels will also feature batch information, which is required by state. By combining these two, we really maximized our use of space." — Jackie Kim, STIIIZY's Director of Integrated Marketing
Live-rosin cannabis maker äkta, one of only two in the space that is single-source, selects a paper tube package for its vape cartridges and concentrates for its sustainability and approachable design.
Voice of the Brand Owner: "In the solventless world, we see a lot of dark colors, a lot of edginess, kind of almost a cool factor, per se, but very masculine. We wanted to lighten that up and give it more of a feminine feel with more colors and more brightness, so even if you didn't know what product was inside, it wouldn't be intimidating."—äkta CEO Blair Kralick