Press
GARCIA HAND PICKED, #1 CELEBRITY CANNABIS BRAND IN THE U.S., NOW AVAILABLE IN FIVE MARKETS
ARTICLE CONTRIBUTED BY GRATEFULWEB | PUBLISHED ON TUESDAY, AUGUST 2, 2022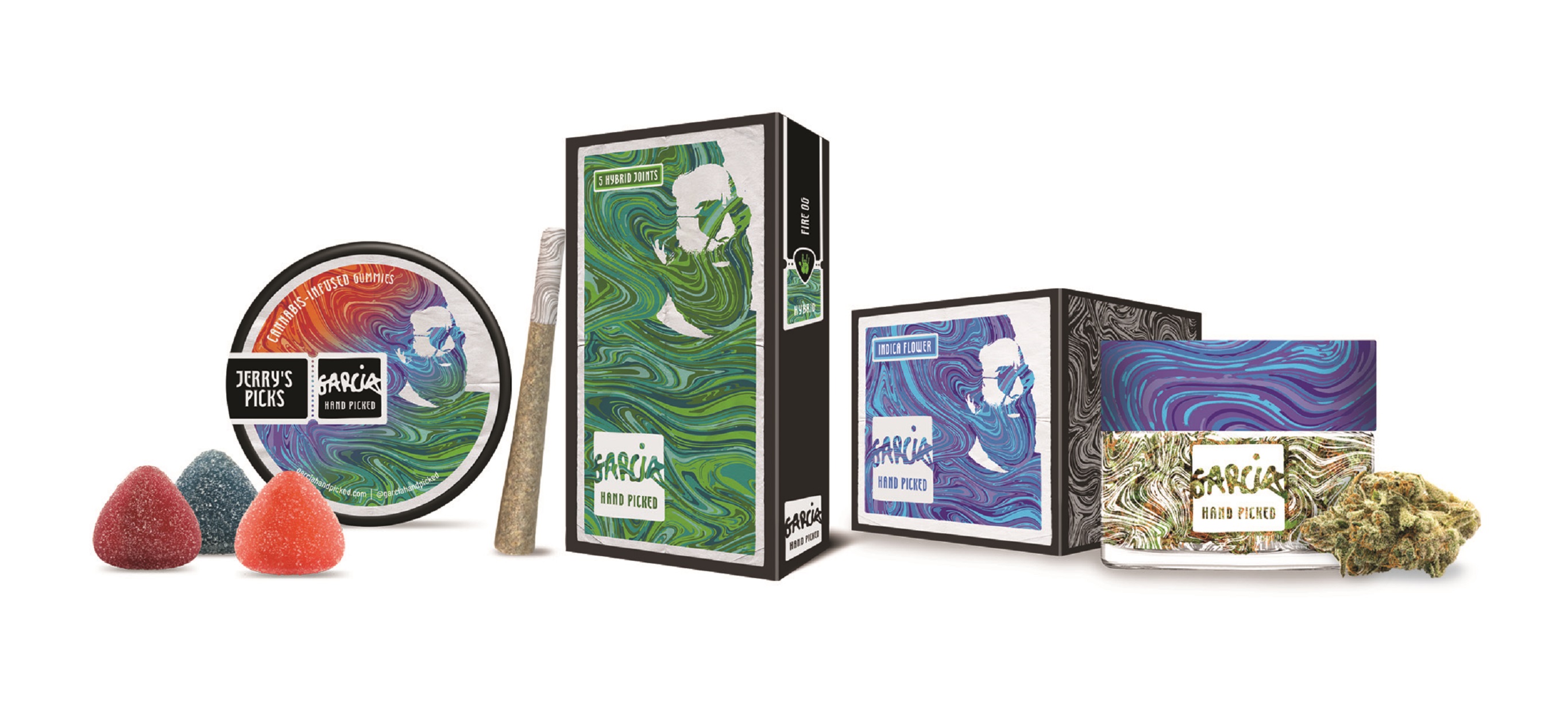 Celebrate Daze Between and Jerry's 80th with Garcia Hand Picked External
Holistic Industries, the largest private multi-state cannabis operator in the U.S. and Veritas Fine Cannabis, Colorado's original craft cannabis company, today announced the availability of Garcia Hand Picked in Colorado, extending availability of the brand to five markets. According to recent data from BDSA, Garcia Hand Picked, a collection of cannabis products and merchandise created in partnership with The Garcia Family to honor the legacy of Jerry Garcia, is the leading celebrity cannabis brand by revenue across the U.S.
"It's an honor to finally have a presence in Colorado, one of our nation's most discerning cannabis markets," said Trixie Garcia, one of Jerry's daughters and spokesperson for The Garcia Family. "Garcia Hand Picked works with an exclusive network local growers in each market we're in that have become part of the Garcia Hand Picked family, and we're excited to bring only the highest quality, curated cannabis to our fans and friends in Colorado."
Bertha, a custom Airstream that tours the country filled with merchandise, music and more, was at The Jerry Garcia Symphonic Experience at Red Rocks Amphitheater in Morrison, CO on June 29 to celebrate Jerry's 80th birthday and to launch Garcia Hand Picked in the market.
"Playing music in Colorado was always a high point for Jerry, he dug the closeness of the audience and the energy that flowed more freely in the mountain air," said Annabelle Garcia, one of Jerry's daughters, and spokesperson for The Garcia Family. "The hidden stories in the rocks were a source of cosmic speculation and inspiration on the long drives to and from the shows. For Jerry, every ridge held a secret treasure, or an alien spacecraft, or a Bigfoot listening to the shows."
"Red Rocks is the perfect venue to celebrate our Father's 80th birthday! Where the sky and mountains meet, we will make a joyful noise and spread some good lovin'," added Trixie Garcia. "The symphonic interpretation of these cherished tunes elevates them to an otherworldly place, and when 'Terrapin Station' erupts, and the big instruments start to resonate, it's going to be very powerful!"
From the plant genetics to packaging design and marketing, Garcia Hand Picked has been carefully curated by The Garcia Family to create an inspired cannabis experience that's the highest quality, spontaneous, harmonious and can bring people together in the way only Jerry could. To ensure the highest quality products in every market, the team hand-picked its strategic partner Veritas Fine Cannabis to launch in Colorado. A leader in terpene-rich craft-quality cannabis, Veritas is known for its intensive hands-on approach to cultivation and curating one-of-a-kind, premium experiences for Colorado cannabis connoisseurs.
The Garcia Hand Picked strains available at launch for any time of day, and named after Jerry Garcia songs, include Morning in Marin (Sativa), Love in the Afternoon (Hybrid) and After Midnight (Indica), among others. It was important for this brand to have a variety of form factors to be inclusive and accessible for different types of consumers while also maintaining authenticity.
Jerry's fan base is diverse in generation, geography and almost every other demographic. What they share is a sense of belonging to the unique community Jerry helped build. From eco-friendly packaging to Jerry's original artwork, quotes from Jerry and suggested playlists for each strain, Garcia Hand Picked products and merchandise are designed specifically for the fans:
A curated selection of premium indoor flower in collectable and re-usable glass jars. Each product is paired with a curated playlist of Jerry's music that corresponds with the strains and will bring out the best in people's GHP experience. Fans can go to the "Music Never Stopped" section of GarciaHandPicked.com to listen.
Those close to Jerry have said he rarely smoked weed by himself, it was more of a social interaction; "a joint became a bridge between him and those around him." Holistic and The Garcia Family put an emphasis on pre-roll packs for a special experience – eco-friendly packaging made from recycled paper and a custom glass tip with Jerry's handprint.
Jerry's Picks are all-natural gummies shaped like Jerry's actual guitar picks and will be coming soon to the Colorado market. Merchandise, including apparel and accessories, with Jerry's original artwork, the Garcia Hand Picked logo and other designs will be available to purchase on Bertha.
Garcia Hand Picked first launched in California in 2020 and is now available in over 300 dispensaries in California, Colorado, Maryland, Massachusetts, Oregon, and soon in Michigan. According to Headset, Garcia Hand Picked is the #9 Cannabis Flower brand in California (year to date). Garcia Hand Picked just launched a program in California called 'Hand Picked Farms' to support independent and legacy farmers and selling flower that is "Sun and Earth Certified," meaning it's grown under the sun, in the soil of Mother Earth, and without chemicals by fairly-paid farmers. Consumers can look for the "Sun and Earth Certified," Hand Picked Farms" sticker on packs of Garcia Hand Picked flower sold in California dispensaries.
For more information, please visit www.GarciaHandPicked.com.