Press
Ski Culture Reaches New High With Icelantic x Veritas Fine Cannabis Collaboration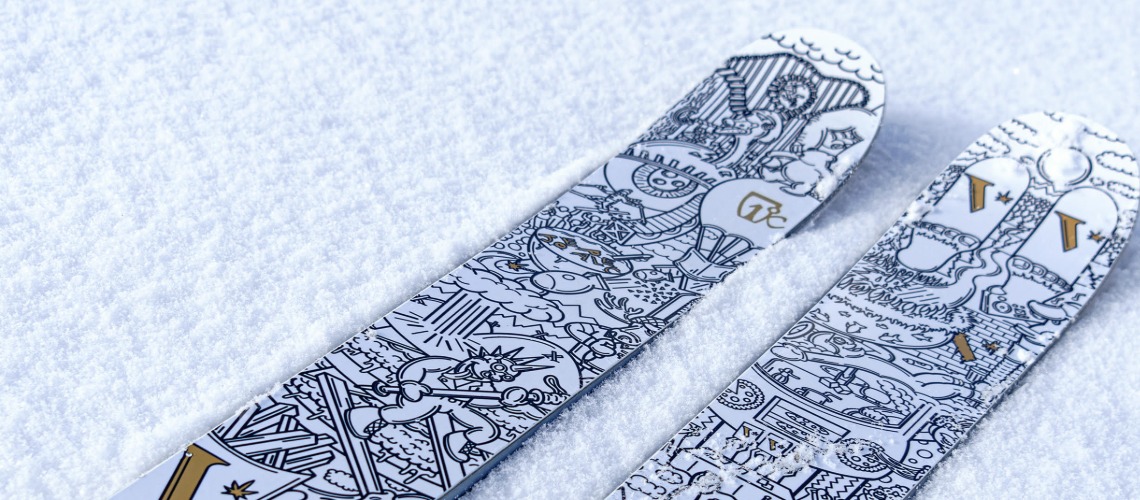 Cannabis has been a major ingredient in the winter sports world long before it was legal. Now thanks to Veritas Fine Cannabis and Icelantic Skis, two Colorado startups turned industry leaders, they're elevating the relationship between cannabis and ski culture through a first-of-its-kind partnership.
"With our collaboration projects, we work with each company directly and their own artists to convey the story they want to present to the public," explained Ashley Hart of Icelantic. "Joe's work is hands down my favorite collab to date. Giving a new artist in the ski industry a chance to tell their story and have their creation live on a ski is something special."
Har added "As the years go on we are seeing more acceptance in a medicine that is clearly working. The reality is that (cannabis) has been a major ingredient in ski culture for decades and is finally getting shown in the light that it deserves. I can't speak for everyone in the company, but I personally can attribute a great deal of creativity, manifestation, and action to cannabis."
Veritas' head of marketing and sales Jon Spadafora said "We are fortunate to have one of the best art directors in cannabis. Sarah Egener has worked very hard to establish relationships with a number of local artists who we call on. We are huge fans of Joe Palec's art, and love the depth of his work. Every time we look at the skis and the jars, a new scene presents itself."
The result is the award-winning Nomad 105 is Icelantic's flagship model, best-selling ski and the foundation of the Nomad Freeride Collection with a custom graphic.
Here's how to get your hands on these custom Icelantic skis you won't find anywhere else. From now until February, each eighth jar of Veritas cannabis flower purchased from a licensed Colorado dispensary includes a sticker with a unique code. Each code can be entered online to win a pair of custom Veritas x Icelantic Nomad 105 skis designed by Denver artist Joe Palec, described as Dangerously whimsical. The provocative mind of this young artist pushes the limits on conventional art. Crossing lines with a stream of consciousness approach towards drawing, sketches, and design.
Icelantic started as an idea that Ben Anderson, the Founder of Icelantic Skis had in high school. After a short stint studying Industrial Design at Western Washington University, Ben moved back to Evergreen, CO and started building skis in his parents garage in 2002. After a lot of trial and error and with the help of a few good friends this dream became a reality and Icelantic was born in 2006.
At Veritas cannabis, they want to make sure every consumer can find the strain best suited for them, every time.
They have one goal; quality over everything. They offer the most consistent, terpene rich flower on the market and pride themselves on the unique, labor intensive processes behind cultivation. From seed to sale, the entire process is completed by hand. From the garden to the packaging room, every step has been designed to ensure the freshest, cleanest premium flower experience in the country.
Terpenes are organic compounds, responsible for the scent of many plants. They are also the single most important factor in determining how cannabis will affect a person. Veritas focusses on understanding the terpenes found in each strains, and they cultivate to maximize their presence in the flower