Press
The 17 Best Dispensaries in Denver
For happy hours and medically certified budtenders, look no further than these dispensaries for weed in Denver.
By Tracy Block, and Erica Buehler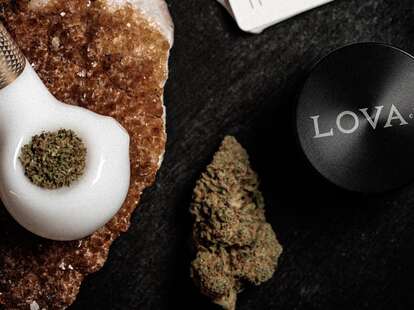 Photo courtesy of Lova‌
Now that we seem to be back on relatively firm footing post-pandemic (knock on wood), we're back to perusing our favorite local dispensaries in the flesh and getting that crucial one-on-one time with our beloved budtenders. Sales certainly haven't stopped, and if anything, the marijuana masterminds behind all of your favorite products and shops have been hard at work to bring you more brands, bigger selections, and record-setting THC percentiles. And the wonderful thing about Denver is its total abundance of dispensaries, whether you're looking for a cozy mom-and-pop shop to purchase ultra-local flower or restocking carts from brands that are sweeping the state. However Mile High you're about to get, this list comprises the best of the best from daily deals to overall quality. Rekindle an old flame or start a new affair with one of these suppliers, and stat—4/20 is rapidly approaching.
And for dispensaries beyond Denver, check out our list of Colorado dispensaries across the state.
Multiple Locations
Behold, one of the largest-growing dispensary franchises in the state, boasting a whopping 16 locations across Colorado. No matter which one you're at, the shops are always clean and tidy, and the staff always friendly and knowledgeable, gently guiding you through the process of making a decision among a wide array of flower, vapes, concentrates, edibles, and pre-rolls, plus a ton of other goodies. GD offers its own strains of flower, from top-sellers like Sex Grenade, Tangilope, and Black Jack alongside familiar names (like, a lot of 'em) in the vape, edible, and concentrates categories from Wana and Wyld to Sugar High and Keef Cola.
LoHi
Fulfilling all your cannabis needs at this shop (just steps from Williams & Graham and LoHi Steakbar) does more than just restock your supply—it supports a Black- and woman-owned small-business. CEO Wanda James and husband and COO Scott Durrah are the first African Americans legally licensed in America to own a dispensary, and opened one of the very first dispensaries in the state back in 2009. The name of the game here is experience, from your shopping journey right up to your blissful toke. Simply Pure has curated an envy-worthy selection of local grows from Veritas to newer brands like TICAL, and products range from the dankest of flower to delightfully tasty popcorn and brownie edibles from vendors like Sweet Mary Jane's. Indulge in the shop's many (and often brand-specific, like BOGO 1906 products on Fridays, starting at 5 pm) specials, including three pre-rolls for $30 Thursday - Saturday 10 pm - midnight and daily happy hour from 3:20 - 5:20 pm.

Edgewater/City Park/Barnum West/Ballpark/Aurora
In the mix since the very beginning (of Colorado's legalization, anyway) is Lova, which aims to make you feel good from the moment you walk through its threshold to when you resume your place on the couch at home. Lova's Edgewater location actually had the first legal recreational sale of cannabis in the country, so they've had skin in the game from the jump. Now with six locations total (five in the greater metro area and one repping the brand in Durango), it continues to bring joy to anyone looking for something to puff, eat, or roll. The neat thing about Lova—in addition to a variety of local and outsourced brands of everything flower to live resin—is its sort by "feeling" or "activity" options on its online, order-ahead site: Looking to get a good night's sleep, or planning to be active? Trying to achieve pure bliss or do some creating? Filter products down so specifically, you'll feel like a VIP shopper every time.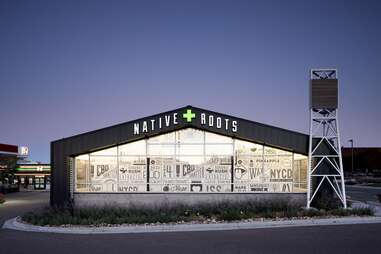 Multiple locations
Making its mark on Denver since 2010, this brand has grown exponentially, with the fanbase, accolades, and top-notch products to prove it. With the cleanest, coziest vibes in every shop and a dedication to making every customer—cannabis newbie or seasoned veteran—feel welcome, this is the place to ask all your questions and feel confident with the goodie bag you walk out with. Native Roots has all your standards, from flower, edibles, pre-rolls, wax, and shatter to topicals and CBD, beverages, and accessories for a perfectly well-rounded experience. Find your favorite brand names across all products like Incredibles, Tastebudz, and Dixie, and the brand's own strains, including Training Day PP, Harlequin, and Elephante. Oh, and Native Roots firmly believes in giving back—which is why it partners up with local nonprofits to support every community home to an outpost.
Southwest Denver
While the name gracing the building's exterior may be different, you'll recognize the inner workings as that of former Diego Pellicer. A rebranding of the dispensary doesn't mean the selection and quality are no longer, just even fresher and better than before. In fact, a lot of favorite names are still very much available, like that of Antero Sciences and Locol Love, with Frost offering its own potent strains of Blue Gelato 41 and Sundae Stomper. Find other familiars by way of concentrates with 710 Labs, Clear Creek Extracts, and Natty Rems, to name a few of many—options are plentiful here. Live resin grams start at a single for $25 and go up from there and yes, the beloved seven-gram buckets are still here. Other harder-to-find products like uber-potent diamonds from Binske, Kush Masters, and more are available, too.
Cheeseman Park/LoDo/Cap Hill
This award-winning brand (currently holding an impressive 133 accolades) serves up exceptional flower, concentrates, and vapes. HLH emphasizes the overall wellness and satisfaction of clientele with all-natural growing methods and attention to detail and has its own breeding program, which means exclusive strains. Papa Smurph and Platinum Valley are highly sought after, while the HLH GG#4 (a non-proprietary strain) has gone through significant in-house work and is a popular choice for recreational and medical consumers alike. When it comes to shopping for out-of-house products, you'll find Wyld, Wana, and Coda regularly in stock. Daily deals run the gamut here, with single joints starting at $7.94, half-ounces for $98.88 (and you can even break them down into four different eighths), and HLH sugar, shatter, wax, and butter are all $19.86 per gram. As thanks for your reefer loyalty, you can also earn 2% back by joining the points program (earn points for every dollar you spend).https://a4affbda6b0fc1d649a72c5a6005ebb9.safeframe.googlesyndication.com/safeframe/1-0-38/html/container.html
Broadway
This concentrate-driven hot spot serves up exceptional varietals with high-cannabinoid extracts. Specializing in terpene preservation (for all you flavor snobs), Apothecary Farms uses refined extraction techniques, including cryo freezers and climate-controlled transport. You can expect unique and exotic tasting notes from in-house strains like Iced Animals, or for dab enthusiasts, there are $15 grams of shatter and wax every day and $25 daily deals on live resin. For the connoisseurs, there's a hearty selection of house-produced solventless hash rosin starting around $50 per gram. And, if you are seeking flower, there are about 10 strains on hand at a time sourced from top cultivations like 14er, and you can cop a $20 eighth on top-shelf buds.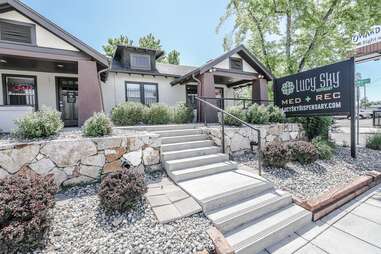 Federal
Lucy Sky goes the extra mile for the customer experience. The staff aims for lasting bonds between cannabis advisor and consumer, so education is key for this brand. Hand-picked, top-shelf flower is available at all times, and notable bud is supplied by Malek's Premium Cannabis, Magic Fish, and Willie's Reserve. Consistency is key when it comes to outsourced product lines, and you can find Green Dot Labs, HRVST, 710 Labs, and Dablogic on a regular basis. Deals are in play every single day of the week, from daily ounces at $165 to 10% off edibles on Mondays to 10% off top-shelf live resin and all other concentrates on Wednesdays. If you're an early riser, stop in during the first hour of the morning to score 15% off.
Baker
L'Eagle applies sustainable, environmentally friendly practices brand-wide. When it comes to flower, L'Eagle's grow pros include two degreed horticulturists and nearly 40 years of commercial cannabis techniques to produce buds that are cured properly for 60 days prior to sale. A large selection of 25 to 30 organic flower strains keeps the regulars lining up, from L'Eagle Eagle, with sweet pine and lemon notes and uplifting effects, to the "Fruity Pebbles aroma" of Grape Ape. The ethics carry into L'Eagle's concentrate creation as well, where in-house offerings feature the cleanest rosin (using only heat and pressure; no chemicals or solvents) and caviar, which are crafted away from the shop. But don't let the organic nature fool you: L'Eagle serves up deals for an affordable, green smoking experience. Sign up for text message blasts for the skinny on half-price specials, random $10 eighths on a snow day, $15 grams of live resin, and more. On a regular day, you can still snag a $99 ounce and a $16 eighth, and feel great about blazing up in a sustainable style.
Baker
Formerly Northern Lights, this new Denver franchise of Rocky Mountain Cannabis Co. sources from a massive lineup of third-party growers, so flower fans can expect a healthy range of options and prices. When it comes to concentrates, consider an array of up to 75 strains, from wax and shatter to live resins and rosins. Upgrade your edible experience with Dialed In products, which are made with rosin. Fret not; you still have access to some incredible deals! Save on bud with 15% off eighths and larger quantities on Tuesday, BOGO cartridges on Wednesday (aka Pensday) and choose-your-own-deal Sunday. Despite the transition, expect the same friendly faces you're used to—just sporting new T-shirts! Plus, all loyalty points carried over from Northern Lights to the new database.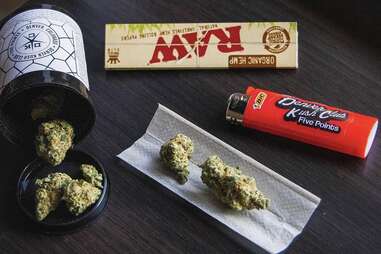 Five Points
In-house bud that lead to concentrates is at the core of this 12-year-old Five Points staple located next door to the famed Cervantes' Masterpiece Ballroom. An extensive collection of classic and new Kush Concentrates products grace the rec case, including diamonds, sauce, live resin, shatter, wax, Caviar joints, distillate, and cartridges. For those who prefer traditional flower, DKC stocks up to 25 strains at a time, from signature Kush buds to all the popular and newest strains. And, there's an array of both edibles and topicals (and a full clothing line) to round out the inventory.
Washington Park
Connoisseur flower, exceptional customer service, and art installations are the draws at this mom-and-pop shop. It's recently expanded its budventory to carry additional strains from Snaxland, Bloom County, and Cherry, to both keep shelves stocked and satisfy its ever-growing customer base. Flower includes Apple Fritter, Limoncello, Papaya Punch, Biesel, and Frankenberry, along with a variety of OG and Cookies crosses. Beyond the bud, this dispo is a one-stop-shop for concentrates from Viola, Harmony Extracts, and Binske, and you can lock in the best prices in the city (and state) on live rosin, pods, pasta joints from 710 Labs and solventless selects from Green Dot Labs—look out for in-house flavors extracted from the house grow from several of these concentrate collabs. Devour edibles courtesy of Coda, Wana, and Robhots; this full-spectrum operation has a flavor for every indulger to savor. Still haven't found the Cure? New customers get hooked up with 20% off their first purchases, along with $20 eighths, every day.
Aurora/Denver/Longmont/Boulder
Expect a wide selection of award-winning flower and deep discounts on popular brands from this independent, locally owned shop, where the staff goes the distance. Not sure which strain to try? Seasoned budtenders recommend classic strains like Moonshine Haze and Hells OG, as well as Terrapin-original strains including Grapefruit Durban and Ugly Stepsister. For a quickie, try conveniently pre-rolled TerraPins, but if it's a more elevated lift you seek, puff Terrapin's premium line of flower "The Woods," which consists of wildly potent strains from exotic genetics. They also bring the fire with Double Bear Concentrates, which are produced by real-life mad scientists in tandem with Terrapin growers. The cases are lined with flavorful concentrates, from cured and live resin as well as a wide selection of affordable vape carts and pods. Edible enthusiasts can score on savings, flavor, and potency thanks to selections from Wana, NFuzed, Cheeba Chews, and 1906. As an added perk, join the TerraPoints program to unlock more deals with every purchase.
South Park Hill
Hand-grown plants cultivated in living, recycled soil contribute to Verde Natural's unique and vibrant flavor profile. Whether it's Hazelnut Cream, Super Lemon Haze, or Wedding Cake, these indoor buds are fed an all-organic diet and have won awards for both taste and potency. Verde's smooth aftermath upon inhalation is a product of this mindful harvesting technique. To create Cannabis Cup-winning concentrates, Verde's flower is extracted into solventless DabLogic products and with four, full-gram joints for $40, buy eight grams, pay for seven on solventless items, and the strain-of-the-month priced at $25 per eighth, even premium product is available at a lower cost.
Northeast Denver/Aurora/Thornton/Longmont
A 40,000-square-foot cultivation facility anchors the operation at this four-branch dispensary. With up to 50 different strains growing at a time, there's plenty of variety when it comes to indica, sativa, hybrids, and CBD options. When not serving up the in-house flower, Wana gummies fly off the shelves daily. In fact, third-party edibles and concentrates are aplenty at Medicine Man, including additional selections from Incredibles, NFuzed, Wyld, PAX, 710 Labs, Lazercat, and Green Dot Labs. There is always a deal at Medicine Man; take advantage of everyday low pricing and a loyalty program where you can earn points every time you shop.
University Hills/Uptown/Boulder
The Health Center offers 20 to 30 varieties of award-winning strains. From Blue Lime Pie to Strawberry Nightmare, it's more than just catchy bud monikers that will get your foot in these doors. Aside from a strong focus on ethical and local grows, along with potency and effectiveness, visitors can take advantage of deals seven days a week. Visit on Saturdays for BOGO half-off edibles. And, for the early-bird stoners that can make it in for "happy hour," during the first hour of business each day, you can choose your own deal from the daily roster.https://a4affbda6b0fc1d649a72c5a6005ebb9.safeframe.googlesyndication.com/safeframe/1-0-38/html/container.html
Glendale
This spacious Glendale spot just over the Denver County Line is home to some of the most coveted and elite genetics in cannabis, as well as an educated staff always eager and willing to advise. Legendary classic strains like Louis XIII hold up alongside modern stars like Alien Rock Candy and MAC while exclusives like ARCtic Cookies and Trixxx set a high standard for new strain creations. Got a green thumb? Trust in Kind Love to provide clean, high-quality clones from their same A-list genetics and seeds, courtesy of world-class breeders.