Press
Veritas Uses On-Pack QR Codes for its Cannabis to Provide Product Transparency
Denver-based cannabis company Veritas adds QR codes to its packaging that enable consumers to find detailed information on the specific cannabis strain and where the product is available for future purchase.
May 25th, 2022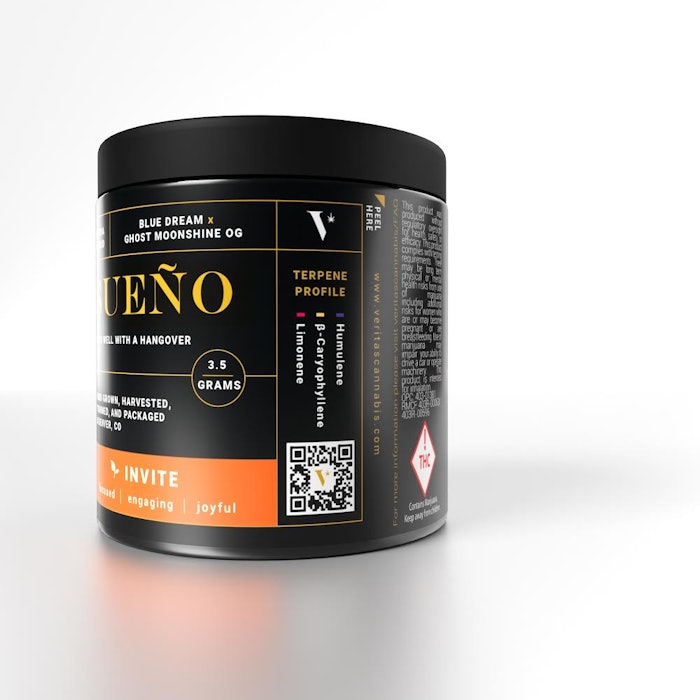 Veritas Fine Cannabis packaging QR codes lead back to a strain card on the company's website that provides even more detailed information not included on the label.
The COVID-19 pandemic, with its requirements for individuals to socially distance and keep safe and sanitized, changed much about consumers' shopping behaviors and their interactions with consumer packaged goods brands. These changes extended to the cannabis market, as well, shares Jordan Plunkett, Marketing Director at Veritas Fine Cannabis. Inspired by restaurants' use of QR codes in place of menus, Veritas began in 2020 to add QR codes to its cannabis packaging labels to put comprehensive product data at consumers' fingertips.
Veritas is a Denver, Colo.-based wholesale cannabis company that differentiates itself and its products by the overall passion and dedication that every member of the team puts into their work every day. That's according to Veritas owner, Mike Leibowitz, who adds, "High-quality products come naturally when people enjoy coming to work and love what they do."
The brand centers around cannabis being the connection that brings people together. "Denver is a melting pot, as is Colorado in general, and we try our best to encapsulate this in everything we do, whether it's a collaboration with craft artisans who call Colorado home, a dining experience with elevated dishes, or an interactive art experience unlike anything anyone has seen," says Plunkett. "Cannabis is an experience, and we try our best to highlight that."
Packaging for Veritas's range of cannabis products, which includes flower and pre-rolls in 100 strains that rotate regularly, comprises glass jars and black plastic tubes, respectively. Graphics for the packaging were done by Sarah Egener, Art Director at Veritas, who Plunkett says "managed to create the perfect brand voice in visual form." He adds, "We like great weed and fun experiences with good people. Our label presents all the important information about an individual strain, such as type of experience—energizing versus relaxing, for example—general effects, genetic lineage and the top three terpenes, in an organized chart format that's easily digestible for any consumer. We are a brand for the newcomer and the connoisseur, so it's important that we highlight the details people actually would be focusing on while shopping for cannabis."
---
In 2020, as QR codes were revived, Veritas realized the opportunity to provide consumers with more comprehensive information on their products beyond what could fit on a label. "When the restaurant industry reintroduced QR codes to the general public we took notice," shares Plunkett. "The technological advancements in smartphones and a more straightforward way to scan and use the codes was quickly adopted.
"In our eyes, QR codes had been a dying thing pre-COVID because smartphone users previously had to download a third-party app to scan them instead of using the camera feature, and let's be honest, we live in a world where these additional steps can act as a deterrent.
"We capitalized on this opportunity [new technology] to give consumers quick and easy access to verified information directly from the source. Veritas Fine Cannabis packaging QR codes lead back to a strain card on our website that provides even more detailed information not included on the label such as the full terpene and cannabinoid lab test results along with where else they can find that product, if it's currently in the rotation. This has allowed our customers to become more educated on what they are smoking while allowing us to reach the customer directly by showing them where they can then find said product again."
Specifically, the QR code allows consumers to see the 21 most prevalent cannabis terpenes present in the product and data on nine different cannabinoids (e.g., THC, THC-A, CBD-A, CBN, etc.), highlighting the most prevalent ones in that strain, as well as a searchable list of retailers across the state currently carrying the strain.
---
Veritas developed the QR codes using an online code generator. Says Plunkett, the codes themselves are easily accessible and readily available, and if you know where to look, are free. "Payments for the software may be necessary if QR codes are being produced in mass quantities," he explains, "but it's mainly the time and labor that goes into the creation of them to make sure they are accurate for different SKUs."
The QR code software also enables Veritas to collect data from consumer scans, including the general regions where they are scanning, what's being scanned, and when it's being scanned, providing insight into what strains or products are popular in some areas, as opposed to others.
While Plunkett says the QR codes are not the main attraction on the packaging label, they are a key component when it comes to consumers being able to get additional, accurate strain information. "Through our experiences, we've learned that transparency is key," he shares, "and we want to always ensure our customers are getting nothing but the best every time."